Officially licensed Neil Gaiman t-shirt.
Inspired by his short story, "15 Painted Cards From a Vampire Tarot".
Artwork by Madam Talbot, produced by Black Phoenix Trading Post.
Tees are $35US.


Purchase Crew

Purchase Babydoll



Officially licensed companions to the Black Phoenix Alchemy Lab Vampire Tarot sets! Inspired by Neil Gaiman's short story, "15 Painted Cards From a Vampire Tarot". Original artwork by the inimitable Madame Talbot, with excerpts from Neil's story on the back.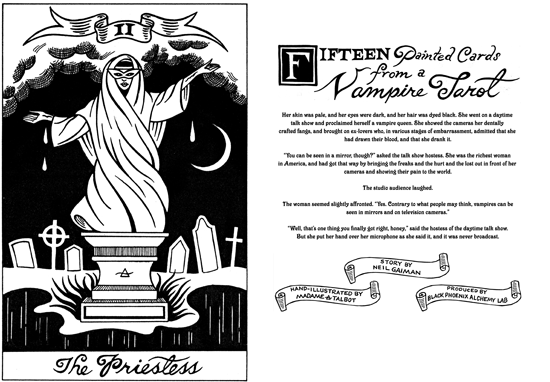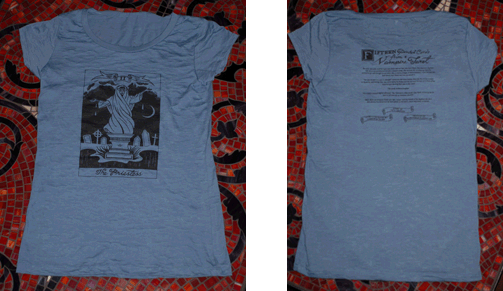 We chose to utilize tees that have been put through the burnout process in order to mimic parchment. It is an extensive and expensive process, and along with the 2-sided print, it makes for a higher price point. The fabric is weathered and has been washed over and over again. It looks deliberately vintage, and has a comfy, well-loved feel to it. The fabric is garment dyed 55% cotton and 45% polyester, and was made in the good ol' US of A. Due to the burnout process, no two tees are exactly the same. We tested the burnouts for two years prior to offering them. The tees we tested withstood innumerable washings over the years, in addition to the abuse of being worn by Ted while he plays hockey (yowch!), and they just keep getting softer and more comfortable over time. (No, we are not selling tees that Ted has worn during hockey. That would be a biohazard.) The fit of the tees, both babydoll and standard crew, are slightly smaller than the usual Black Phoenix Trading Post tees. Please refer to the size chart below for more information.

The Priestess tee is a different style than the Fool and the Magician.
Though babydolls are crews, they do not have a "boyfriend" fit. This tee hugs your curves.

Because this tee was less expensive to make than the Fool and the Magician, it is offered at a lower price.

Black ink on dusty cobalt fabric.