Jewelry Inspired by the Short Stories of Neil Gaiman



The Neil Gaiman Collection.
This jewelry series is a tribute to Neil Gaiman's phenomenal short stories. His works have been an enormous influence on our lives, and we are honored to be able to work with him on a project that benefits Alzheimer's research.

Neil Gaiman's Official Site
Neil Gaiman's Official Online Store

This is a charitable, not-for-profit venture: proceeds from every single piece go to Match It For Pratchett, which is raising money to match Terry Pratchett's $1,000,000.00 donation to the Alzheimer's Research Trust.

Terry Pratchett Books
Terry Pratchett UK Web Site

Each piece is hand cast 925 sterling silver, and each bale sports the alchemical symbol for brimstone. The oval lockets measures 1.5" from top to bottom, and the circular lockets measure approximately 1" in diameter. The circular pendant measures approximately 1" in diameter.

The lockets are heavy, thick with silver, and are perfect for use as a perfume oil conduit. Dab a little Hastur, Mad Sweeney, Mr. Nancy, Fairy Market or Banana Peel in a Graveyard onto muslin, velvet or cotton, and place the swatch inside the locket. Your body will warm the silver, and the locket will exude pure, unadulterated scent.

This jewelry is exclusive to the Trading Post. Every piece was inspired by the work of Neil Gaiman, and were created with his blessing. The artwork for Forbidden Brides, the Goldfish Pool, and Shoggoth's Old Peculiar was created by Alicia Dabney, and the artwork for A Study in Emerald and Snow, Glass, Apples was created by Julie Dillon.

The current run for each style is twenty pieces. Since each piece is hand cast, the jewelry will come down temporarily as they sell out in order for us to take the time and care necessary to create more.

Each locket is $85.00US, and each pendant is $50.00US. Both come with a gossamer ribbon in a Black Phoenix Trading Post velvet pouch.








Click on the locket's image to order.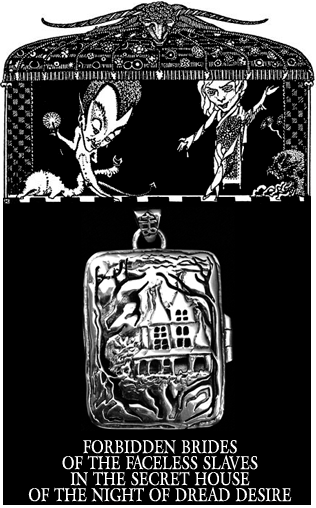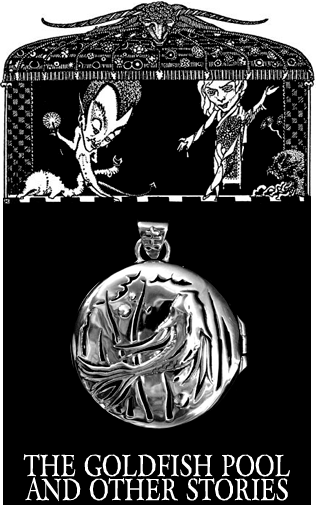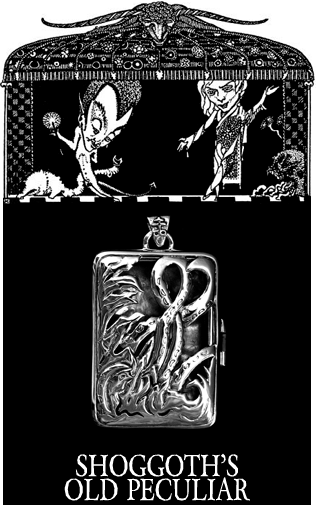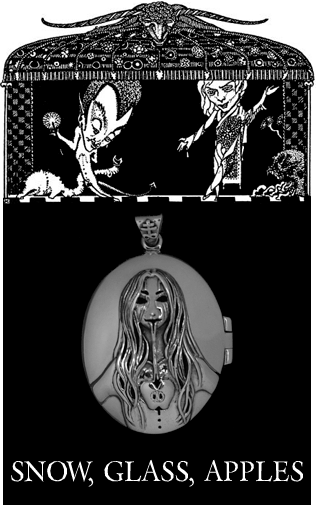 Click on the pendant's image to order.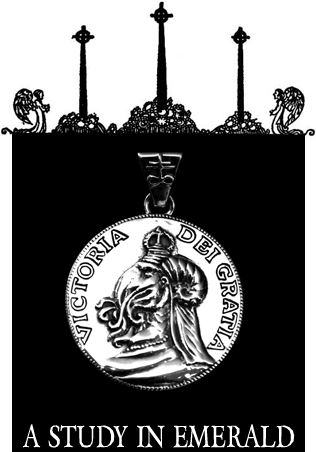 Neil Gaiman Vampire Tarot tees.
Vampire Tarot Tarot Card/Perfume companion sets .
Other Neil Gaiman scents.
BLACK PHOENIX ALCHEMY LAB, BPAL, IMP'S EARS, A LITTLE LUNACY, CARNAVAL DIABOLIQUE and all oil names are trademarks of the Black Phoenix Partnership. All characters, locations, and scent descriptions within this series are the intellectual property of Neil Gaiman, and are used here with his permission. All rights reserved.