Officially licensed
Black Phoenix Alchemy Lab Statuary
The Skeleton Librarian Plaque


Limited edition run of 75 bone plaques and 25 bronze plaques.
$45US for bone, $75US for bronze.



PURCHASE BONE PLAQUE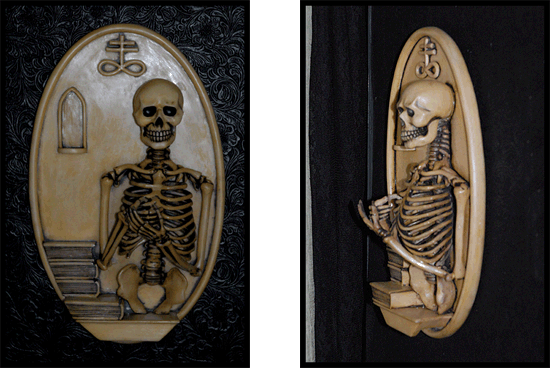 The Skeleton Librarian Plaques are here! Inspired by the Skeleton Librarian t-shirt, this plaque is based on artwork created for Black Phoenix Trading Post by Kali of Johnny Ace Studios! Hand cast and hand painted, these plaques come in two styles: cold cast bronze and cold cast resin with a bone finish. These plaques aren't simply decorative: they hold eight bottles for display. Due to the handcrafted nature of these plaques, no two are exactly the same!

Dimensions are 15"x9.5"

This is a limited stock item: there are seventy-five bone plaques, and twenty-five bronze plaques. Once they're gone, they're gone.

Suitable for indoor or outdoor use. Please note: the cold cast bronze plaque will patina over time.