Hand-Crafted Black Phoenix ID Cases
$45US



Slender, spooky-chic, and exclusive to the Trading Post! Perfect for holding your identification, charge cards, and calling cards. Two types are available: hand-poured resin and distressed leather. In hand-poured resin, we have Albert Penot's Bat-Woman and an illustration for Faust by Harry Clarke entitiled, 'Drest Thus, I Seem A Different Creature'. The former inspired a Black Phoenix Salon scent, and the latter has been featured in Black Phoenix promotional and advertising material. In distressed leather, we present one of Aubrey Beardsley's illustrations for Salome, and a commemorative 'Lunacy' ID case featuring Jennifer Williamson's artwork from Blood Moon.

These fiendishly durable steel ID cases are exclusive to the Trading Post, and were created by and for Black Phoenix. They cannot be found anywhere else in all of Heaven and Earth.

The current run for each style of ID case is one dozen pieces. Since each piece is hand-crafted, they will come down temporarily as they sell out in order for us to take the time and care necessary to create more.

3 5/8" x 2 1/8" x 5/16"

Each ID case is $45.00US.

Click on the cases' image to order.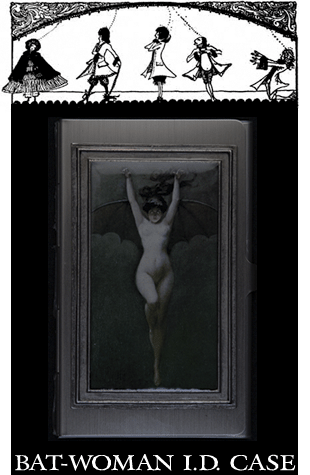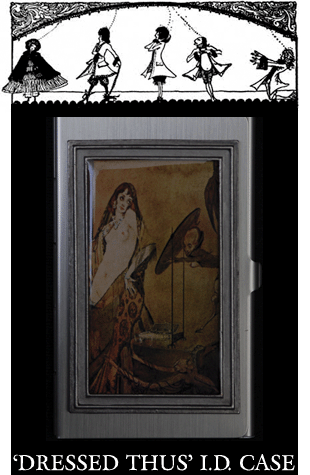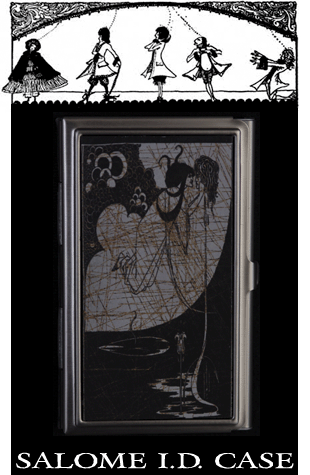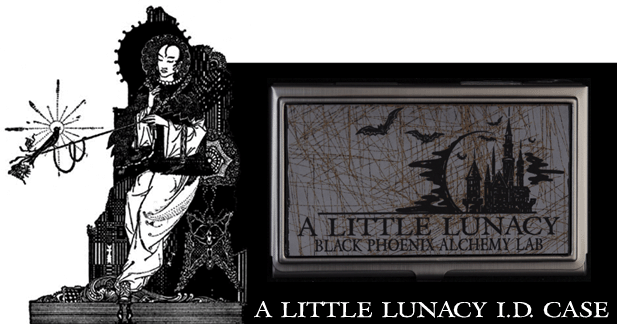 BLACK PHOENIX ALCHEMY LAB, BLACK PHOENIX TRADING POST, BPAL, IMP'S EARS, A LITTLE LUNACY, CARNAVAL DIABOLIQUE and all oil names are trademarks of the Black Phoenix Partnership. All descriptions and original artwork © 2000-2008, Black Phoenix Partnership except for public domain works and Carnaval Diabolique artwork © 2006 Jennifer Williamson. Used with permission, all rights reserved.