Officially licensed
Black Phoenix Alchemy Lab
Distressed Leather Triple Dagger Patch
Tank Top w/Black Rhinestone Studs $60.00US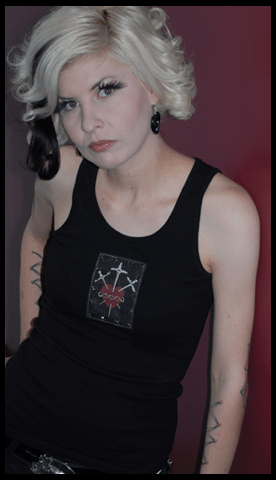 Hand-dyed 100% combed cotton tanks built for a girly figure thanks to textured 3x1 ribbing and a top-heavy cut; they are form-fitting, stretchy and clinging in all the right places. The tanks possess 3/8" baby rib binding to help ensure that they keep their shape, they are baby blankie soft, and they have a resilient double-stitched bottom hem. The image on the tank has been placed on soft distressed leather, secured with contrasting tea-stain stitching and 14 black rhinestone studs.

Each tank top is handmade, one piece at a time.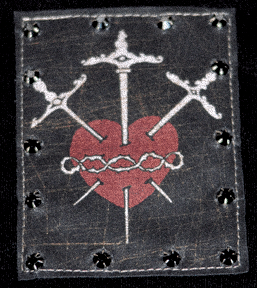 Please note that the tanks run very small, though the flexibility of the fabric is accommodating. You should choose a size based on both your body shape and the way you like your tanks to fit. Small / medium will fit size 0-8, medium / large will fit size 6-12, and extra-large will fit 10-14.

Fully washable.

Model: Jacquelynn