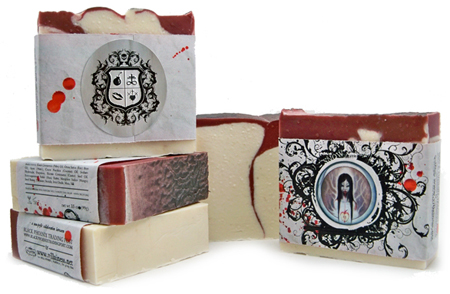 SNOW, GLASS, APPLES
She said nothing. Her eyes were black as coal, black as her hair; her lips were redder than blood. She looked up at me and smiled. Her teeth seemed sharp, even then, in the lamplight.

"What are you doing away from your room?"

"I'm hungry," she said, like any child.

It was winter, when fresh food is a dream of warmth and sunlight; but I had strings of whole apples, cored and dried, hanging from the beams of my chamber, and I pulled an apple down for her.

"Here."

Autumn is the time of drying, of preserving, a time of picking apples, of rendering the goose fat. Winter is the time of hunger, of snow, and of death; and it is the time of the midwinter feast, when we rub the goose-fat into the skin of a whole pig, stuffed with that autumn's apples, then we roast it or spit it, and we prepare to feast upon the crackling.

She took the dried apple from me and began to chew it with her sharp yellow teeth.

"Is it good?"

She nodded. I had always been scared of the little princess, but at that moment I warmed to her and, with my fingers, gently, I stroked her cheek. She looked at me and smiled -- she smiled but rarely -- then she sank her teeth into the base of my thumb, the Mound of Venus, and she drew blood.

I began to shriek, from pain and from surprise; but she looked at me and I fell silent.



Black Phoenix Trading Post is thrilled to present a handcrafted soap inspired by Neil Gaiman's acclaimed short story, Snow, Glass, Apples. The soap was created by the fiercely talented master soaper Brooke Stant, and the label, designed by Kira Butler, includes one of Julie Dillon's haunting illustrations from Black Phoenix Alchemy Lab's chapbook of the tale. The soaps are scented with Black Phoenix Alchemy Lab's 2008 Limited Edition scent, Snow, Glass Apples. In Neil's words, 'It smells like green apples and like sex and vampires, all at the same time. (Actually, it smells like sexy vampire apples.)' Snow, Glass, Apples will be available as long as supplies last.

These gloriously luxuriant soaps were created with the finest skin-nurturing ingredients. They are made by hand, from scratch, by Villainess, and are generously scented with Black Phoenix Alchemy Lab perfume. Each bar is at least 3.5oz (without any water weight), and are cut 1" thick from a 3" square block of soap. The faces of the bars are smooth and bear unique, undulating, surrealistically beautiful swirls and marbles - rivulets of blood swirling though snow - and the sides are textured and raw, exhibiting the complex landscape of unsculpted handmade soap.

As always, no animals were harmed during the creation of this soap, and all products were tested on friends and family.

This is a charitable, not-for-profit venture: proceeds from every single set go to the Comic Book Legal Defense Fund, which works to preserve and protect the First Amendment rights of the comics community.

A million thanks and all our love to Neil, and to Charles Brownstein and his staff at the CBLDF!
.purchase bar.
.view cart / check out.