Officially licensed
Black Phoenix Alchemy Lab Statuary and Scent
Balthazar Statue / La Fée Verte Perfume Oil 10ml
Seamus Statue / Hellion Perfume Oil 10ml


Only 300 created of each statue and perfume.
$50US each. Includes statue and 10ml bottle of corresponding oil.



SOLD OUT



Balthazar and Seamus are two of BPAL's resident imps. They are fraternal twins, as you can see. Glory-mongers that they are, they reckoned they'd save the paparazzi the trouble of taking snapshots of the two of them sunbathing topless on the Lab rooftop, so they went ahead and commissioned statues of themselves. 300 statues each, numbered, with a cute little certificate of authenticity. Smug little buggers.

Now, imps are nothing if not nags. After many months of badgering Miss Elizabeth to make oils that they can pair up with their graven images, she finally breaks down and does it. It took three cookie bribes, many batted eyelashes, and dozens of plucked weed bouquets to win her over, but in the end… eyelash batting and boxes of rum balls always work. Balthazar, being the more decadent of the two, requested an absinthe-based scent to commemorate the many nights that he and Brian have spent, delrious, in the company of the Green Fairy. Seamus, who longs to be one of the enforcers on Teddy's hockey team, wanted a rowdy, rough-and-tumble blend.

Time has been tight, so Balthazar's statue was snapped with a bottle of Baneberry, Seamus' with Jolly Roger. The statues are only available with their personal scent, and the perfume accompanying the statue, due to manufacturing issues, cannot be swapped out for another 10ml. Rorry, Raggy!

Thus, we present for your amusement and pleasure: Balthazar & Seamus – the first of the BPAL statues.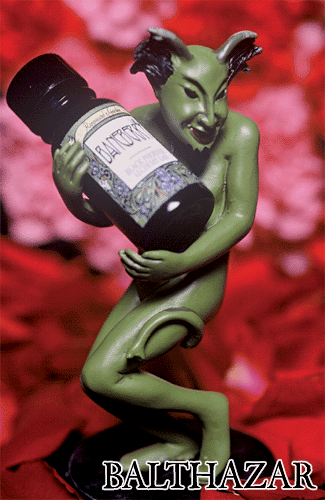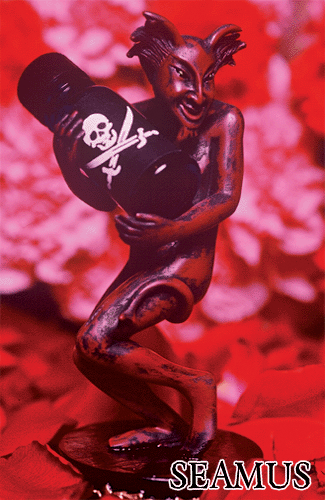 BALTHAZAR'S SCENT: LA FÉE VERTE
A variant on the absinthe theme. Sugared wormwood, hyssop and melissa with calamus, angelica and Dittany of Crete, blended with a Bohemian perfume of vanilla musk, honey absolute and Moroccan spices.

SEAMUS' SCENT: HELLION
A scent for all rabble-rousing, nose-thumbing reprobates: black plum, champaca flower, dark musk, patchouli, narcissus and scorched sandalwood.
No imps ears will be sold for these scents out of respect for the models.

Each statue comes with one 10ml bottle of the corresponding scent and a little certificate, signed and numbered. When they're gone, they're gone.