A Four-Part Black Phoenix Trading Post Series
$40.00US per set

The chilled air of winter is harbinger to a limited scent series at Black Phoenix Trading Post: the Great Loves and Tragedies of Ancient Greece. These scents are meant to be worn together, but can also be worn apart. Sold only as a set.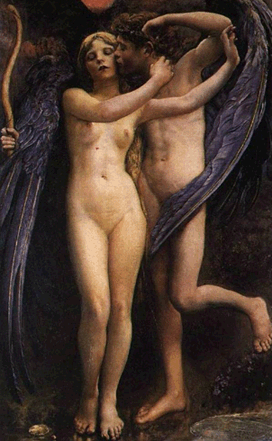 +PYRAMUS & THISBE
Pyramus was the most handsomest youth, and Thisbe the loveliest maiden, of all the East lived in Babylon, where Semiramis reigned. Their parents occupied adjoining houses; and neighborhood brought the young people together, and acquaintance ripened into love. They longed to marry, but their parents forbade. One thing however they could not forbid - that love should glow with equal ardor in the bosoms of both. They conversed by signs and glances, and the fire burned more intensely for being covered up. In the wall that parted the two houses there was a crack, caused by some fault in the structure. No one had remarked it before, but the lovers discovered it. What will not love discover! It afforded a passage to the voice; and tender messages used to pass backward and forward through the gap. As they stood, Pyramus on this side, Thisbe on that, their breaths would mingle. "Cruel wall," they said, "why do you keep two lovers apart? But we will not be ungrateful. We owe you, we confess, the privilege of transmitting loving words to willing ears." Such words they uttered on different sides of the wall; and when night came and they must say farewell, they pressed their lips upon the wall, she on her side, he on his, as they could come no nearer.

Next morning, when Aurora had put out the stars, and the sun had melted the frost from the grass, they met at the accustomed spot. Then, after lamenting their hard fate, they agreed that next night, when all was still, they would slip away from watchful eyes, leave their dwellings and walk out into the fields; and to insure a meeting, repair to a well-known edifice, standing without the city's bounds, called the Tomb of Ninus, and that the one who came first should await the other at the foot of a certain tree. It was a white mulberry tree, and stood near a cool spring. All was agreed on, and they waited impatiently for the sun to go down beneath the waters and night to rise up from them. Then cautiously Thisbe stole forth, unobserved by the family, her head covered with a veil, made her way to the monument and sat down under the tree. As she sat alone in the dim light of the evening she descried a lioness, her jaws reeking with recent slaughter, approaching the fountain to slake her thirst. Thisbe fled at the sight, and sought refuge in the hollow of a rock. As she fled she dropped her veil. The lioness, after drinking at the spring, turned to retreat to the woods, and seeing the veil on the ground, tossed and rent it with her bloody mouth.

Pyramus, having been delayed, now approached the place of meeting. He saw in the sand the footsteps of the lion, and the color fled from his cheeks at the sight. Presently he found the veil all rent and bloody. "O, hapless girl," said he, "I have been the cause of thy death! Thou, more worthy of life than I, hast fallen the first victim. I will follow. I am the guilty cause, in tempting thee forth to a place of such peril, and not being myself on the spot to guard thee. Come forth, ye lions, from the rocks, and tear this guilty body with your teeth." He took up the veil, carried it with him to the appointed tree, and covered it with kisses and with tears. "My blood also shall stain your texture," said he, and drawing his sword plunged it into his chest. The blood spurted from the wound, and tinged the white mulberries of the tree all red; and sinking into the earth reached the roots, so that the red color mounted through the trunk to the fruit.

By this time, Thisbe, still trembling with fear, yet wishing not to disappoint her lover, stepped cautiously forth, looking anxiously for the youth, eager to tell him the danger she had escaped. When she came to the spot and saw the changed color of the mulberries she doubted whether it was the same place. While she hesitated she saw the form of one struggling in the agonies of death. She started back, a shudder ran through her frame as a ripple on the face of the still water when a sudden breeze sweeps over it. But as soon as she recognized her lover, she screamed and beat her breast; embracing the lifeless body, pouring tears into its wounds, and imprinting kisses on the cold lips. "O, Pyramus," she cried, "what has done this? Answer me, Pyramus; it is your own Thisbe that speaks. Hear me, dearest, and lift that drooping head!" At the name of Thisbe, Pyramus opened his eyes, then closed them again. She saw her veil stained with blood and the scabbard empty of its sword. "Thy own hand has slain thee, and for my sake," she said. "I too can be brave for once, and my love is as strong as thine. I will follow thee in death, for I have been the cause; and death, which alone could part us, shall not prevent my joining thee. And ye, unhappy parents of us both, deny us not our united request. As love and death have joined us, let one tomb contain us. And thou, tree, retain the marks of slaughter. Let thy berries still serve for memorials of our blood." So saying, she plunged the sword into her breast. Her parents ratified her wish, the gods also ratified it. The two bodies were buried in one sepulchre, and the tree ever after brought forth purple berries, as it does to this day.

(Translation of Ovid's Metamorphosis by Thomas Bulfinch.)

PYRAMUS
Dragon's blood resin, frankincense, amber, white tea, lavender, and golden musk.

THISBE
Diaphanous sandalwood, pink rose, lotus root, lemon orpur, and iris stained by mulberry juice.
.purchase set.
.view cart / check out.
+ECHO & NARKISSOS
ECHO
Fam'd far and near for knowing things to come,
From him th' enquiring nations sought their doom;
The fair Liriope his answers try'd,
And first th' unerring prophet justify'd.
This nymph the God Cephisus had abus'd,
With all his winding waters circumfus'd,
And on the Nereid got a lovely boy,
Whom the soft maids ev'n then beheld with joy.

The tender dame, sollicitous to know
Whether her child should reach old age or no,
Consults the sage Tiresias, who replies,
"If e'er he knows himself he surely dies."
Long liv'd the dubious mother in suspence,
'Till time unriddled all the prophet's sense.

Narcissus now his sixteenth year began,
Just turn'd of boy, and on the verge of man;
Many a friend the blooming youth caress'd,
Many a love-sick maid her flame confess'd:
Such was his pride, in vain the friend caress'd,
The love-sick maid in vain her flame confess'd.

Once, in the woods, as he pursu'd the chace,
The babbling Echo had descry'd his face;
She, who in others' words her silence breaks,
Nor speaks her self but when another speaks.
Echo was then a maid, of speech bereft,
Of wonted speech; for tho' her voice was left,
Juno a curse did on her tongue impose,
To sport with ev'ry sentence in the close.
Full often when the Goddess might have caught
Jove and her rivals in the very fault,
This nymph with subtle stories would delay
Her coming, 'till the lovers slip'd away.
The Goddess found out the deceit in time,
And then she cry'd, "That tongue, for this thy crime,
Which could so many subtle tales produce,
Shall be hereafter but of little use."
Hence 'tis she prattles in a fainter tone,
With mimick sounds, and accents not her own.

This love-sick virgin, over-joy'd to find The boy alone,
still follow'd him behind:
When glowing warmly at her near approach,
As sulphur blazes at the taper's touch,
She long'd her hidden passion to reveal,
And tell her pains, but had not words to tell:
She can't begin, but waits for the rebound,
To catch his voice, and to return the sound.

The nymph, when nothing could Narcissus move,
Still dash'd with blushes for her slighted love,
Liv'd in the shady covert of the woods,
In solitary caves and dark abodes;
Where pining wander'd the rejected fair,
'Till harrass'd out, and worn away with care,
The sounding skeleton, of blood bereft,
Besides her bones and voice had nothing left.
Her bones are petrify'd, her voice is found
In vaults, where still it doubles ev'ry sound.

A scent shrouded behind a veil: vanilla orchid, amyris, white sandalwood, grey amber, and tuberose.



NARKISSOS
Thus did the nymphs in vain caress the boy,
He still was lovely, but he still was coy;
When one fair virgin of the slighted train
Thus pray'd the Gods, provok'd by his disdain,
"Oh may he love like me, and love like me in vain!"
Rhamnusia pity'd the neglected fair,
And with just vengeance answer'd to her pray'r.
There stands a fountain in a darksom wood,
Nor stain'd with falling leaves nor rising mud;
Untroubled by the breath of winds it rests,
Unsully'd by the touch of men or beasts;
High bow'rs of shady trees above it grow,
And rising grass and chearful greens below.
Pleas'd with the form and coolness of the place,
And over-heated by the morning chace,
Narcissus on the grassie verdure lyes:
But whilst within the chrystal fount he tries
To quench his heat, he feels new heats arise.
For as his own bright image he survey'd,
He fell in love with the fantastick shade;
And o'er the fair resemblance hung unmov'd,
Nor knew, fond youth! it was himself he lov'd.
The well-turn'd neck and shoulders he descries,
The spacious forehead, and the sparkling eyes;
The hands that Bacchus might not scorn to show,
And hair that round Apollo's head might flow;
With all the purple youthfulness of face,
That gently blushes in the wat'ry glass.
By his own flames consum'd the lover lyes,
And gives himself the wound by which he dies.
To the cold water oft he joins his lips,
Oft catching at the beauteous shade he dips
His arms, as often from himself he slips.

Nor knows he who it is his arms pursue
With eager clasps, but loves he knows not who.

What could, fond youth, this helpless passion move?
What kindled in thee this unpity'd love?
Thy own warm blush within the water glows,
With thee the colour'd shadow comes and goes,
Its empty being on thy self relies;
Step thou aside, and the frail charmer dies.

Still o'er the fountain's wat'ry gleam he stood,
Mindless of sleep, and negligent of food;
Still view'd his face, and languish'd as he view'd.
At length he rais'd his head, and thus began
To vent his griefs, and tell the woods his pain.
"You trees," says he, "and thou surrounding grove,
Who oft have been the kindly scenes of love,
Tell me, if e'er within your shades did lye
A youth so tortur'd, so perplex'd as I?
I, who before me see the charming fair,
Whilst there he stands, and yet he stands not there:
In such a maze of love my thoughts are lost:
And yet no bulwark'd town, nor distant coast,
Preserves the beauteous youth from being seen,
No mountains rise, nor oceans flow between.
A shallow water hinders my embrace;
And yet the lovely mimick wears a face
That kindly smiles, and when I bend to join
My lips to his, he fondly bends to mine.
Hear, gentle youth, and pity my complaint,
Come from thy well, thou fair inhabitant.
My charms an easy conquest have obtain'd
O'er other hearts, by thee alone disdain'd.
But why should I despair? I'm sure he burns
With equal flames, and languishes by turns.
When-e'er I stoop, he offers at a kiss,
And when my arms I stretch, he stretches his.
His eye with pleasure on my face he keeps,
He smiles my smiles, and when I weep he weeps.
When e'er I speak, his moving lips appear
To utter something, which I cannot hear.

"Ah wretched me! I now begin too late
To find out all the long-perplex'd deceit;
It is my self I love, my self I see;
The gay delusion is a part of me.
I kindle up the fires by which I burn,
And my own beauties from the well return.
Whom should I court? how utter my complaint?
Enjoyment but produces my restraint,
And too much plenty makes me die for want.
How gladly would I from my self remove!
And at a distance set the thing I love.
My breast is warm'd with such unusual fire,
I wish him absent whom I most desire.
And now I faint with grief; my fate draws nigh;
In all the pride of blooming youth I die.
Death will the sorrows of my heart relieve.
Oh might the visionary youth survive,
I should with joy my latest breath resign!
But oh! I see his fate involv'd in mine."

This said, the weeping youth again return'd
To the clear fountain, where again he burn'd;
His tears defac'd the surface of the well,
With circle after circle, as they fell:
And now the lovely face but half appears,
O'er-run with wrinkles, and deform'd with tears.
"Ah whither," cries Narcissus, "dost thou fly?
Let me still feed the flame by which I die;
Let me still see, tho' I'm no further blest."
Then rends his garment off, and beats his breast:
His naked bosom redden'd with the blow,
In such a blush as purple clusters show,
Ere yet the sun's autumnal heats refine
Their sprightly juice, and mellow it to wine.
The glowing beauties of his breast he spies,
And with a new redoubled passion dies.
As wax dissolves, as ice begins to run,
And trickle into drops before the sun;
So melts the youth, and languishes away,
His beauty withers, and his limbs decay;
And none of those attractive charms remain,
To which the slighted Echo su'd in vain.

She saw him in his present misery,
Whom, spight of all her wrongs, she griev'd to see.
She answer'd sadly to the lover's moan,
Sigh'd back his sighs, and groan'd to ev'ry groan:
"Ah youth! belov'd in vain," Narcissus cries;
"Ah youth! belov'd in vain," the nymph replies.
"Farewel," says he; the parting sound scarce fell
>From his faint lips, but she reply'd, "farewel."
Then on th' wholsome earth he gasping lyes,
'Till death shuts up those self-admiring eyes.
To the cold shades his flitting ghost retires,
And in the Stygian waves it self admires.

For him the Naiads and the Dryads mourn,
Whom the sad Echo answers in her turn;
And now the sister-nymphs prepare his urn:
When, looking for his corps, they only found
A rising stalk, with yellow blossoms crown'd.

Gently blushing vanilla, haughty opoponax, duosmon, oude, and narcissus.
.SOLD OUT.
+ CLYTIE AND HELIOS
HELIOS
The Sun, the source of light, by beauty's pow'r
Once am'rous grew; then hear the Sun's amour.
Venus, and Mars, with his far-piercing eyes
This God first spy'd; this God first all things spies.
Stung at the sight, and swift on mischief bent,
To haughty Juno's shapeless son he went:
The Goddess, and her God gallant betray'd,
And told the cuckold, where their pranks were play'd.
Poor Vulcan soon desir'd to hear no more,
He drop'd his hammer, and he shook all o'er:
Then courage takes, and full of vengeful ire
He heaves the bellows, and blows fierce the fire:
>From liquid brass, tho' sure, yet subtile snares
He forms, and next a wond'rous net prepares,
Drawn with such curious art, so nicely sly,
Unseen the mashes cheat the searching eye.
Not half so thin their webs the spiders weave,
Which the most wary, buzzing prey deceive.
These chains, obedient to the touch, he spread
In secret foldings o'er the conscious bed:
The conscious bed again was quickly prest
By the fond pair, in lawless raptures blest.

Mars wonder'd at his Cytherea's charms,
More fast than ever lock'd within her arms.
While Vulcan th' iv'ry doors unbarr'd with care,
Then call'd the Gods to view the sportive pair:
The Gods throng'd in, and saw in open day,
Where Mars, and beauty's queen, all naked, lay.
O! shameful sight, if shameful that we name,
Which Gods with envy view'd, and could not blame;
But, for the pleasure, wish'd to bear the shame.
Each Deity, with laughter tir'd, departs,
Yet all still laugh'd at Vulcan in their hearts.

Thro' Heav'n the news of this surprizal run,
But Venus did not thus forget the Sun.
He, who stol'n transports idly had betray'd,
By a betrayer was in kind repay'd.
What now avails, great God, thy piercing blaze,
That youth, and beauty, and those golden rays?
Thou, who can'st warm this universe alone,
Feel'st now a warmth more pow'rful than thy own:
And those bright eyes, which all things should survey,
Know not from fair Leucothoe to stray.
The lamp of light, for human good design'd,
Is to one virgin miserly confin'd.
Sometimes too early rise thy eastern beams,
Sometimes too late they set in western streams:
'Tis then her beauty thy swift course delays,
And gives to winter skies long summer days.
Now in thy face thy love-sick mind appears,
And spreads thro' impious nations empty fears:
For when thy beamless head is wrapt in night,
Poor mortals tremble in despair of light.
'Tis not the moon, that o'er thee casts a veil
'Tis love alone, which makes thy looks so pale.
Leucothoe is grown thy only care,
Not Phaeton's fair mother now is fair.
The youthful Rhodos moves no tender thought,
And beauteous Porsa is at last forgot.
Fond Clytie, scorn'd, yet lov'd, and sought thy bed,
Ev'n then thy heart for other virgins bled.
Leucothoe has all thy soul possest,
And chas'd each rival passion from thy breast.
To this bright nymph Eurynome gave birth
In the blest confines of the spicy Earth.
Excelling others, she herself beheld
By her own blooming daughter far excell'd.
The sire was Orchamus, whose vast command,
The sev'nth from Belus, rul'd the Persian Land.

Deep in cool vales, beneath th' Hesperian sky,
For the Sun's fiery steeds the pastures lye.
Ambrosia there they eat, and thence they gain
New vigour, and their daily toils sustain.
While thus on heav'nly food the coursers fed,
And night, around, her gloomy empire spread,
The God assum'd the mother's shape and air,
And pass'd, unheeded, to his darling fair.
Close by a lamp, with maids encompass'd round,
The royal spinster, full employ'd, he found:
Then cry'd, A-while from work, my daughter, rest;
And, like a mother, scarce her lips he prest.
Servants retire!- nor secrets dare to hear,
Intrusted only to a daughter's ear.
They swift obey'd: not one, suspicious, thought
The secret, which their mistress would be taught.
Then he: since now no witnesses are near,
Behold! the God, who guides the various year!
The world's vast eye, of light the source serene,
Who all things sees, by whom are all things seen.
Believe me, nymph! (for I the truth have show'd)
Thy charms have pow'r to charm so great a God.
Confus'd, she heard him his soft passion tell,
And on the floor, untwirl'd, the spindle fell:
Still from the sweet confusion some new grace
Blush'd out by stealth, and languish'd in her face.
The lover, now inflam'd, himself put on,
And out at once the God, all-radiant, shone.
The virgin startled at his alter'd form,
Too weak to bear a God's impetuous storm:
No more against the dazling youth she strove,
But silent yielded, and indulg'd his love.

The searing brightness of the sun: Gum Arabic, frankincense, liquid copal, cistus, neroli, golden cedarwood, and saffron.



CLYTIE
This Clytie knew, and knew she was undone,
Whose soul was fix'd, and doated on the Sun.
She rag'd to think on her neglected charms,
And Phoebus, panting in another's arms.
With envious madness fir'd, she flies in haste,
And tells the king, his daughter was unchaste.
The king, incens'd to hear his honour stain'd,
No more the father nor the man retain'd.
In vain she stretch'd her arms, and turn'd her eyes
To her lov'd God, th' enlightner of the skies.
In vain she own'd it was a crime, yet still
It was a crime not acted by her will.
The brutal sire stood deaf to ev'ry pray'r,
And deep in Earth entomb'd alive the fair.
What Phoebus could do, was by Phoebus done:
Full on her grave with pointed beams he shone:
To pointed beams the gaping Earth gave way;
Had the nymph eyes, her eyes had seen the day,
But lifeless now, yet lovely still, she lay.
Not more the God wept, when the world was fir'd,
And in the wreck his blooming boy expir'd.
The vital flame he strives to light again,
And warm the frozen blood in ev'ry vein:
But since resistless Fates deny'd that pow'r,
On the cold nymph he rain'd a nectar show'r.
Ah! undeserving thus (he said) to die,
Yet still in odours thou shalt reach the sky.
The body soon dissolv'd, and all around
Perfum'd with heav'nly fragrancies the ground,
A sacrifice for Gods up-rose from thence,
A sweet, delightful tree of frankincense.

Tho' guilty Clytie thus the sun betray'd,
By too much passion she was guilty made.
Excess of love begot excess of grief,
Grief fondly bad her hence to hope relief.
But angry Phoebus hears, unmov'd, her sighs,
And scornful from her loath'd embraces flies.
All day, all night, in trackless wilds, alone
She pin'd, and taught the list'ning rocks her moan.
On the bare earth she lies, her bosom bare,
Loose her attire, dishevel'd is her hair.
Nine times the morn unbarr'd the gates of light,
As oft were spread th' alternate shades of night,
So long no sustenance the mourner knew,
Unless she drunk her tears, or suck'd the dew.
She turn'd about, but rose not from the ground,
Turn'd to the Sun, still as he roul'd his round:
On his bright face hung her desiring eyes,
'Till fix'd to Earth, she strove in vain to rise.
Her looks their paleness in a flow'r retain'd,
But here, and there, some purple streaks they gain'd.
Still the lov'd object the fond leafs pursue,
Still move their root, the moving Sun to view,
And in the Heliotrope the nymph is true.

Excess of love begetting excess of grief: heliotrope, frankincense, muguet, osmanthus, and neroli.
.SOLD OUT.
Each of the Great Loves are only sold as a set, the couples cannot be split up.