4oz Atmosphere Spray - $25.00
4oz Bath Oil - $25.00
4oz Hair Gloss - $30.00
Candle - $22.00
Handmade Hard Candies - $10.00
Crew neck Tee- $17.00
Scoop Neck Tissue Tee - $29.00
3X Crew Neck Tee - $19.00


No goblin squirts or samples are available for this series!







There are sins it may be to discover,
There are deeds it may be to delight.
What new work wilt thou find for thy lover,
What new passions for daytime or night?
What spells that they know not a word of
Whose lives are as leaves overblown?
What tortures undreamt of, unheard of,
Unwritten, unknown?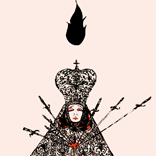 .purchase classic tee.
.purchase scoop neck tissue tee.
.purchase 3X crew.
.view cart / check out.






++ BPTP OUR LADY OF PAIN: CANDLES
THERE YET SHALL BE SORROWS
In yesterday's reach and to-morrow's,
Out of sight though they lie of to-day,
There have been and there yet shall be sorrows
That smite not and bite not in play.
The life and the love thou despisest,
These hurt us indeed, and in vain,
O wise among women, and wisest,
Our Lady of Pain.

White sandalwood, black cypress, wormwood, creeping willow, and rue.
.purchase.
.view cart / check out.


THE THIRST OF UNBEARABLE THINGS
By the hunger of change and emotion,
By the thirst of unbearable things,
By despair, the twin-born of devotion,
By the pleasure that winces and stings,
The delight that consumes the desire,
The desire that outruns the delight,
By the cruelty deaf as a fire
And blind as the night,

Lavender, white fig, and Atlas cedar.
.purchase.
.view cart / check out.


IN THE DARKNESS THEY MURMURED AND MINGLED
And they laughed, changing hands in the measure,
And they mixed and made peace after strife;
Pain melted in tears, and was pleasure;
Death tingled with blood, and was life.
Like lovers they melted and tingled,
In the dusk of thine innermost fane;
In the darkness they murmured and mingled,
Our Lady of Pain.

Labdanum, black plum, black currant, violet, and champaca flower.
.purchase.
.view cart / check out.


THE TWILIGHT WHERE VIRTUES ARE VICES
In a twilight where virtues are vices,
In thy chapels, unknown of the sun,
To a tune that enthralls and entices,
They were wed, and the twain were as one.
For the tune from thine altar hath sounded
Since God bade the world's work begin,
And the fume of thine incense abounded,
To sweeten the sin.

Honeysuckle, Moroccan jasmine, and opium smoke.
.purchase.
.view cart / check out.


DRIED IS THE BLOOD OF THY LOVER
What broke off the garlands that girt you?
What sundered you spirit and clay?
Weak sins yet alive are as virtue
To the strength of the sins of that day.
For dried is the blood of thy lover,
Ipsithilla, contracted the vein;
Cry aloud, "Will he rise and recover,
Our Lady of Pain?"

Dragon's blood resin, myrrh, red musk, vetiver, black clove, and cassia.
.purchase.
.view cart / check out.







++ BPTP OUR LADY OF PAIN: BATH OILS
THE FROTH OF THE SERPENTS OF PLEASURE
All thine the new wine of desire,
The fruit of four lips as they clung
Till the hair and the eyelids took fire,
The foam of a serpentine tongue,
The froth of the serpents of pleasure,
More salt than the foam of the sea,
Now felt as a flame, now at leisure
As wine shed for me.

Sweet red wine, oakmoss, ambergris accord, ylang ylang, and Spanish mandarin.
.purchase.
.view cart / check out.


QUICKEN THE SOUL THROUGH THE BLOOD
Thou shalt touch and make redder his roses
With juice not of fruit nor of bud;
When the sense in the spirit reposes,
Thou shalt quicken the soul through the blood.
Thine, thine the one grace we implore is,
Who would live and not languish or feign,
O sleepless and deadly Dolores,
Our Lady of Pain.

Cacao, red patchouli, night-blooming jasmine, Roman chamomile, and white tea.
.purchase.
.view cart / check out.


LITHE AND LASCIVIOUS REGRET
Thou wert fair in the fearless old fashion,
And thy limbs are as melodies yet,
And move to the music of passion
With lithe and lascivious regret.
What ailed us, O gods, to desert you
For creeds that refuse and restrain?
Come down and redeem us from virtue,
Our Lady of Pain.

Blackberry hops, blackened raspberry gum, purple chypre, and myrrh.
.purchase.
.view cart / check out.







++ BPTP OUR LADY OF PAIN: ROOM SPRAYS
FIERCE MIDNIGHTS AND FAMISHING MORROWS
Seven sorrows the priests give their Virgin;
But thy sins, which are seventy times seven,
Seven ages would fail thee to purge in,
And then they would haunt thee in heaven:
Fierce midnights and famishing morrows,
And the loves that complete and control
All the joys of the flesh, all the sorrows
That wear out the soul.

Black plum, wild lily, and tobacco.
.purchase.
.view cart / check out.


HOUSE OF UNQUENCHABLE FIRE
O garment not golden but gilded,
O garden where all men may dwell,
O tower not of ivory, but builded
By hands that reach heaven from hell;
O mystical rose of the mire,
O house not of gold but of gain,
O house of unquenchable fire,
Our Lady of Pain!

Glittering amber, frankincense, neroli, vanilla silk, and champaca.
.purchase.
.view cart / check out.


THE SHRINE WHERE SIN IS A PRAYER
I have passed from the outermost portal
To the shrine where a sin is a prayer;
What care though the service be mortal?
O our Lady of Torture, what care?
All thine the last wine that I pour is,
The last in the chalice we drain,
O fierce and luxurious Dolores,
Our Lady of Pain.

Deep purple Syrah, calamus, myrrh smoke, hyssop, opoponax, bitter clove, burgundy pitch, opium poppy, and violet leaf.
.purchase.
.view cart / check out.







++ BPTP OUR LADY OF PAIN: HAIR GLOSS
IMPLACABLE BEAUTIFUL TYRANT
When, with flame all around him aspirant,
Stood flushed, as a harp-player stands,
The implacable beautiful tyrant,
Rose-crowned, having death in his hands;
And a sound as the sound of loud water
Smote far through the flight of the fires,
And mixed with the lightning of slaughter
A thunder of lyres.

Golden amber, frankincense, white ginger, and oudh.
.purchase.
.view cart / check out.


HAIR LOOSENED AND SOILED IN MID ORGIES
All shrines that were Vestal are flameless,
But the flame has not fallen from this;
Though obscure be the god, and though nameless
The eyes and the hair that we kiss;
Low fires that love sits by and forges
Fresh heads for his arrows and thine;
Hair loosened and soiled in mid orgies
With kisses and wine.

White honey, warm musk, and ambrette seed.
.purchase.
.view cart / check out.












++ BPTP LUPERCALIA 2013: CANDLES
KHAJURAHO
The fabled Khajuraho temples of India are shrines of love in all its myriad forms. They are a celebration of love itself - transcendental, spiritual and erotic. This is a rejection of sorrow, spiritual ennui and despair. The sexual motifs that adorn the temples, and the temples themselves, are monuments to ecstasy and to passion, and through that, they are also monuments to spiritual fulfillment. It is believed that the realization of moksha by dedicating oneself to adhyatma and dharma can be attained only by first experiencing sexual satisfaction. In the midst of the drudgery and struggle that we sometimes endure during the course of our Earthly lives, it is vitally important that we remember the joy found in kama, and that in kama we can achieve transformation of the body and soul.

This is a blissful, euphoric blend based on an ancient Indian love potion: honey, date palm, tuberose, davana blossom, amber, white sandalwood, vanilla bean, Damask rose, and champaca flower.
.purchase.
.view cart / check out.







++ BPTP LUPERCALIA 2013: CONFECTIONS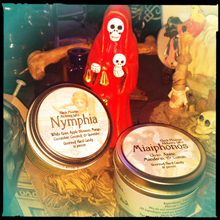 These gourmet hard candies were hand-made exclusively for Black Phoenix by Confounding Confections. Confounding Confections Hard Candies are created and wrapped by hand, using only the finest of natural ingredients.

All ingredients used are natural, vegan, gluten-free, and free of common allergens. Gift tins are made in the U.S.A., and are reusable and recyclable.

Includes 12 individually wrapped sweeties (2 oz.) packaged in a handsome 4 inch gift tin.


For starry-eyed lovers:

NYMPHIA
White rose, apple blossom, mango, cucumber, coconut, and lavender.
.purchase .
.view cart / check out.

To inflame with lust:

MIAIPHONOS
Clove, anise, mandarin, and cumin.
.purchase .
.view cart / check out.





Also new at Black Phoenix Trading Post...

BLACK ROSE CANDLE
Exquisitely melancholy. The background scent to an ancient exequies. Heavy, dark and floral: a blend of roses, with a touch of amber and musk.
.purchase .
.view cart / check out.