Officially licensed
Black Phoenix Alchemy Lab
Established 1350 Laboratory Apron
$25.00US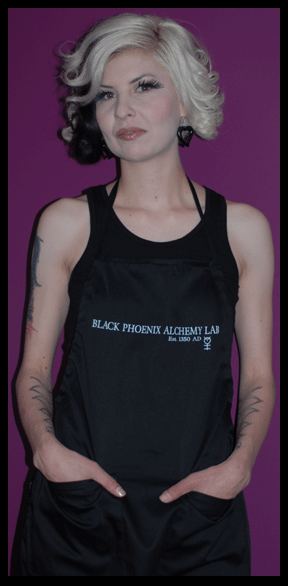 The Official Black Phoenix laboratory apron. These are the same bib aprons that are used by BPAL lab staff every single workin' day. White ink on a soft black 65% poly / 35% cotton apron. The print reads, "Black Phoenix Alchemy Lab / Established 1350 AD", and is accompanied by John Dee's Hieroglyphic Monad. There are two generously sized pockets on the front (6½" by 7½"), perfect for holding smaller pieces of alchemical equipment. The adjustable neck tie ensures comfort.

21" wide at its widest point.
28½" from chest to hem.

Machine washable. One size fits all.

Model: Jacquelynn.